Control your fertility very simply
Now with SpermaPause® men can easily choose when to have a baby
SpermaPause is a contraceptive underwear for men that allows you to pause your fertility as long as you wish in a simple and practical way.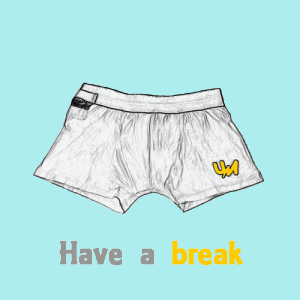 SIMPLE
Just a brief boxer to wear

Three hours a day minimum
The integrated warming pad will softly blur out sperm cells production and then prevent from unplanned pregnancies
EFFICIENT
Better than the contraceptive pills
Equivalent to vasectomy with a 99.9% efficiency
Tolerance to negligence up to 4 consecutive days
SAFE
No side effects

Men keep semen and libido. They ejaculate normally
Tested in the laboratory
Thermal male contraception has been driven by European doctors

REVERSIBLE
Natural recovery of fertility

NATURAL
Simply physiological
No medical drugs, no hormones
SpermaPause® is safe and efficient. It suits any man. You will gain intimate comfort, pleasure and serenity. It's a real contraception for men!
How to get it?
Please proceed with online order. Postal delivery to all destinations (USA, Canada, Europe, Overseas regions, Latin America, Oceania, Asia...).
Simply enjoy the best, now!
Gentlemen, opt for the thermal male contraception:
It's simple, effective and reversible! Just go for it!
Une belle innovation!
★★★★★
"
Equipe très réactive et disponible pour répondre à nos interrogations. Cela fait maintenant 2 mois que nous utilisons SpermaPause et le spermogramme a été plus que concluant!! Ma fiancée a pu arrêter ses contraceptions (pilules, stérilet) qui lui rendaient la vie dur. 3 ou 4h de mon temps pour la soulager... ce n'est pas grand chose, surtout qu'il n'y a pas de réelles contraintes!! Nous en parlons un maximum autour de nous car même les médecins ne sont pas du tout au courant de cette technique... Nous recommandons vivement SpermaPause!!
"
Funktioniert perfekt
★★★★★
"
Nach 2 1/2 Monaten konnten bei mir keine Spermien mehr im Ejakulat nachgewiesen werden. Angenehme und einfache Benutzung, ohne jegliche Nebenwirkungen. Die Wärme ist gerade richtig und nicht zu heiß. Ich verwende die Unterhose meistens bis der Akku leer ist. Endlich eine reversible Möglichkeit, langfristig Verantwortung über die eigene Fruchtbarkeit übernehmen zu können.
"
Mr
★★★★★
"
Contact très facile, rapidité et disponibilité pour répondre aux questions. Aucun avis sur le produit pour l'heure.
"
It works!
★★★★★
"
I found Jemaya SpermaPause during a desperate web-surf for male contraception. I looked everywhere for a way that I could take control of my fertility that didn't involve condoms or surgery but the options for men is unfortunately very slim. When my gf refused to take any form of female birth control as well as refusing to have condom sex, I knew that action needed to be taken if I was to avoid the overwhelming pain of unplanned fatherhood. By wearing SpermaPause for 1 full battery charge a day, I achieved azoospermia (zero sperm count!) in around 6 weeks. At week 3, lab test confirmed I had a count of 50 million but was diagnosed with teratozoospermia or abnormal morphology and borderline concentration. at the end of week 6, a laboratory test confirmed I had reached the zero mark. I haven't noticed any side effects other than a very minor decrease in the size of my balls. However, I still have a healthy libido so I'd take slightly smaller balls over being an unplanned parent any day! Thank you Jemaya!
"
Conforme
★★★★★
"
Pack SmartSeeds+ bien reçu à Montréal(QC).
"
Amazingly effective
★★★★★
"
It works straight away for me, with so little to do. How come this stuff ain't known better? Should be a first need product. Wish you good luck Folks!
"
-
Ashleigh G. (@Australia!!!)